Company
CyStack at FIDO APAC Summit 2023: Innovative strategy and vision for a promising digital future
During the three days from August 28 – 30, representative of CyStack – CEO & Founder Mr. Nguyen Huu Trung was present at FIDO APAC Summit 2023 held at Vinpearl Nha Trang, Khanh Hoa and delivered the presentation "From Password to Passwordless".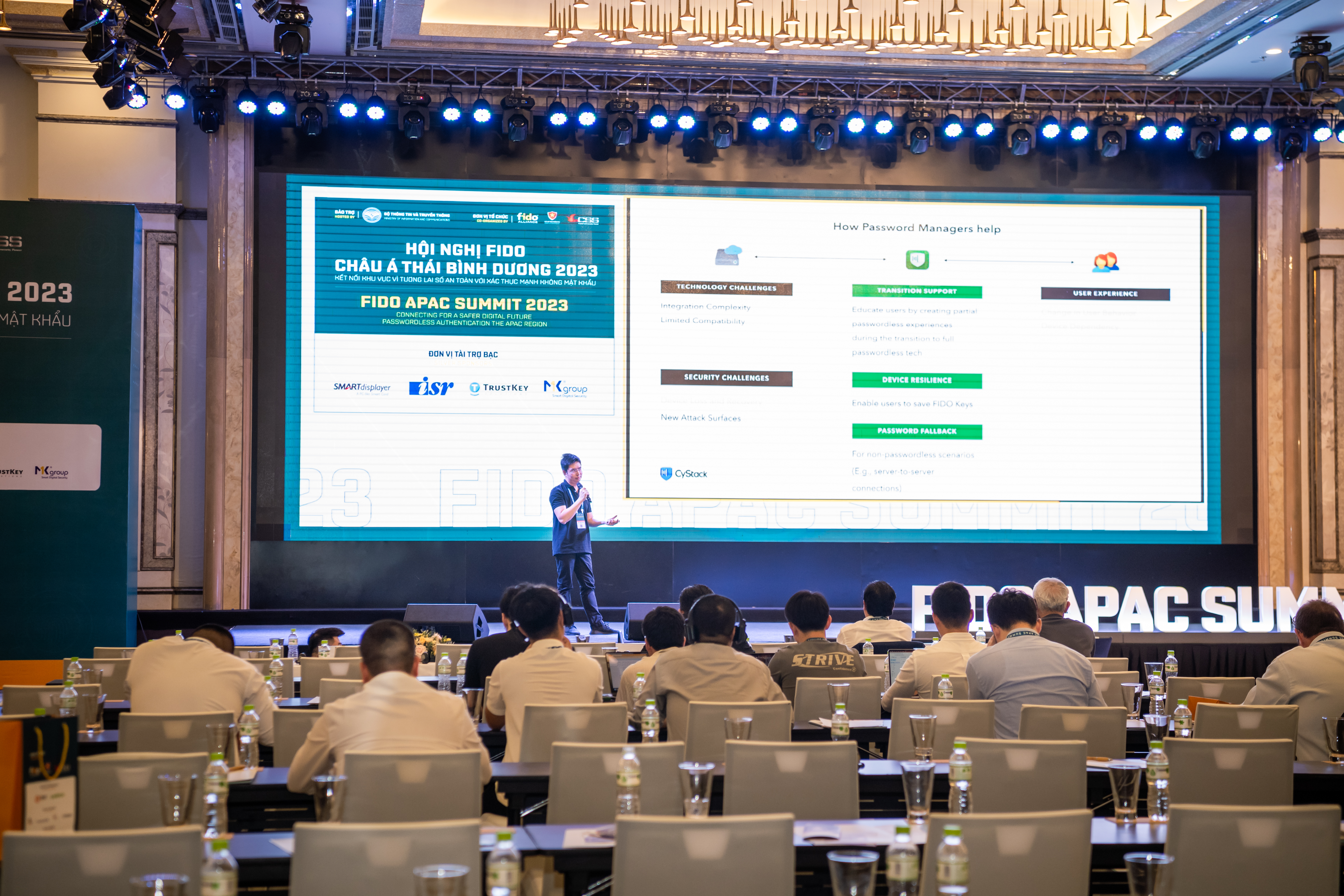 The summit took place under the sponsorship of the Ministry of Information and Communications, co-organized by the Department of Information Security, FIDO Alliance and VinCSS Cyber Security Services Joint Stock Company. This year's theme is "Connecting for a Safer Digital Future with Passwordless Strong Authentication". The summit gathered nearly 400 Vietnamese and international delegates from many large multi-sector businesses such as finance, technology, banking, cyber security, etc.
FIDO APAC Summit is organized with the goal of connecting leaders, cybersecurity experts and government representatives in the Asia-Pacific region to research the latest developments, best practices and success stories in passwordless authentication.
FIDO (Fast IDentity Online) Alliance is an open industry association founded in February 2013, gathering more than 250 members, which includes technology companies, service providers, and developers. FIDO was born with the mission of developing and promoting authentication standards, helping to reduce the world's dependence on passwords. Thereby, changing the nature of authentication with security standards that are more secure than passwords and OTPs.
The FIDO protocols use standard key encryption techniques to provide stronger authentication. Traditional password authentication methods or one-time passwords (OTP) have been proven to be easily attacked by methods such as email phishing attacks, malicious code that steals account information account and uses weak passwords.
Many organizations in the Asia-Pacific region are actively adopting passwordless authentication. In the world, many large technology corporations such as Apple, Amazon, Google, Microsoft, Intel, etc. have participated in the FIDO Alliance and use this new technology on the basis of their products and services.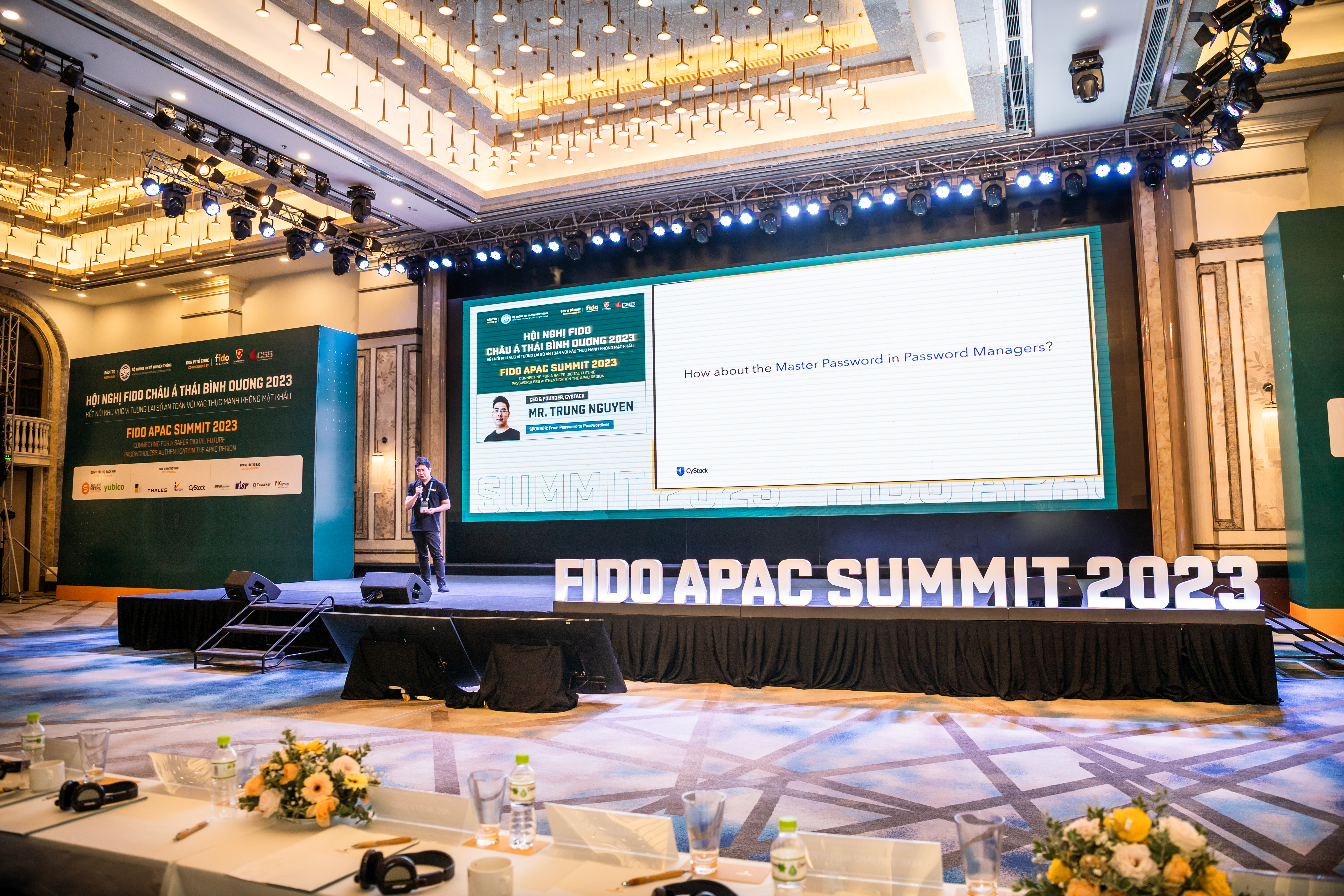 Passwordless authentication: Limitations and potential
As the Gold Sponsor of the summit, CyStack representative – CEO & Founder Nguyen Huu Trung gave a presentation titled "From Password to Passwordless: Perspectives of a Password Management Company".
Mr. Trung pointed out the limitations of passwordless technology at the present time such as complexity in the integration process into old systems; ineffective authentication compatibility; dependency when devices or users' access are denied; and new attack methods on this technology.
It requires many efforts to solve this problem. Mr. Trung mentioned in his speech "Passwordless authentication is gaining momentum, but a complete transition from password-based methods will not happen overnight."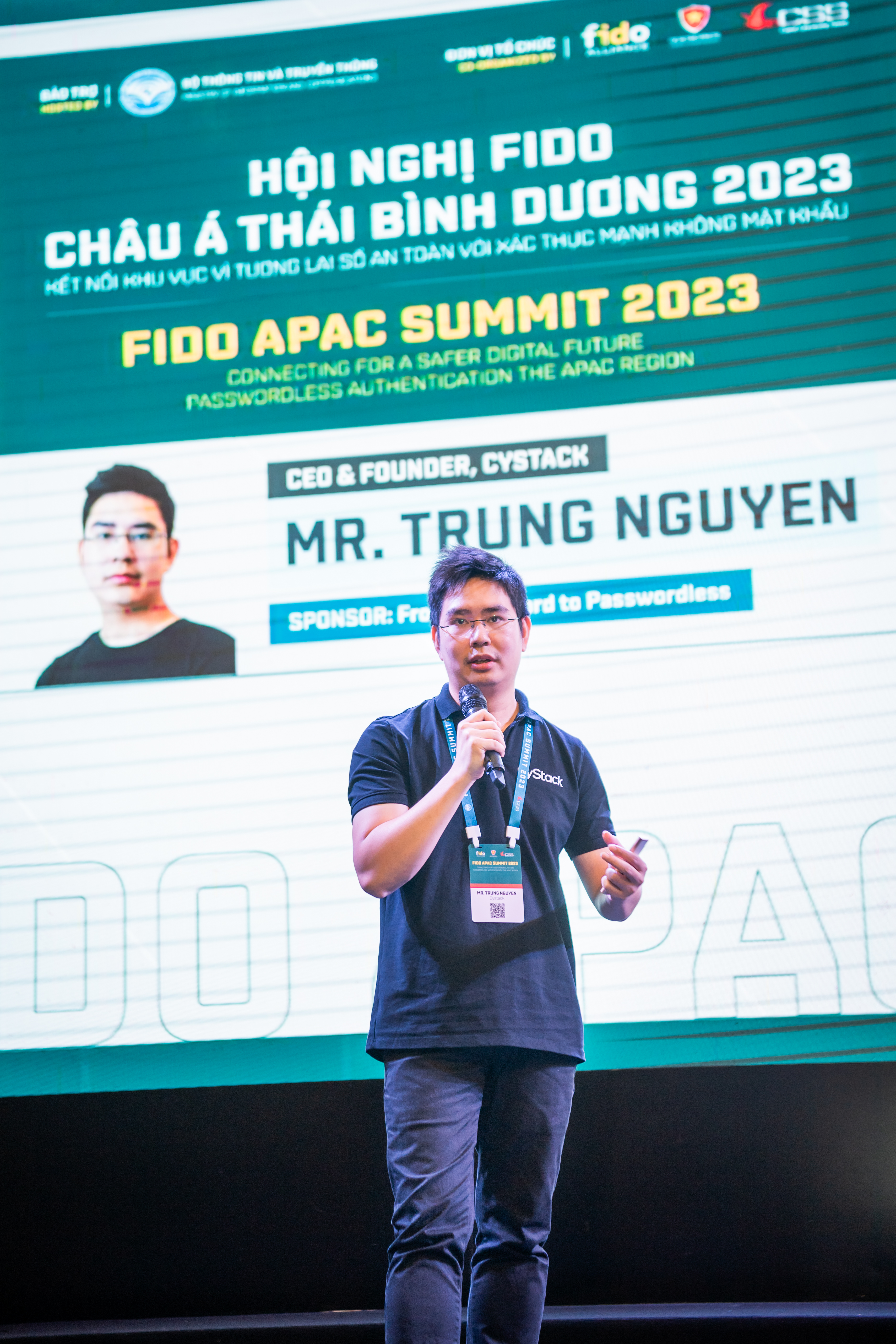 As the developer of the Locker Password Manager, CyStack representative mentioned that today's password managers can make the passwordless implementation process more convenient and effortless for businesses and organizations that offer passwordless technology, including:
Help users get used to a "passwordless" experience when using password manager autofill features
Supports compatibility with systems that require password authentication
Allows you to securely store, retrieve, and share passkeys and FIDO keys across multiple devices
In addition, in his sharing, Mr. Trung mentioned that all businesses developing password managers require their users to remember the Master Password. By applying FIDO keys and new authentication technologies, CyStack has succeeded in eliminating the Master Password to help users have a completely passwordless experience without having to remember any passwords.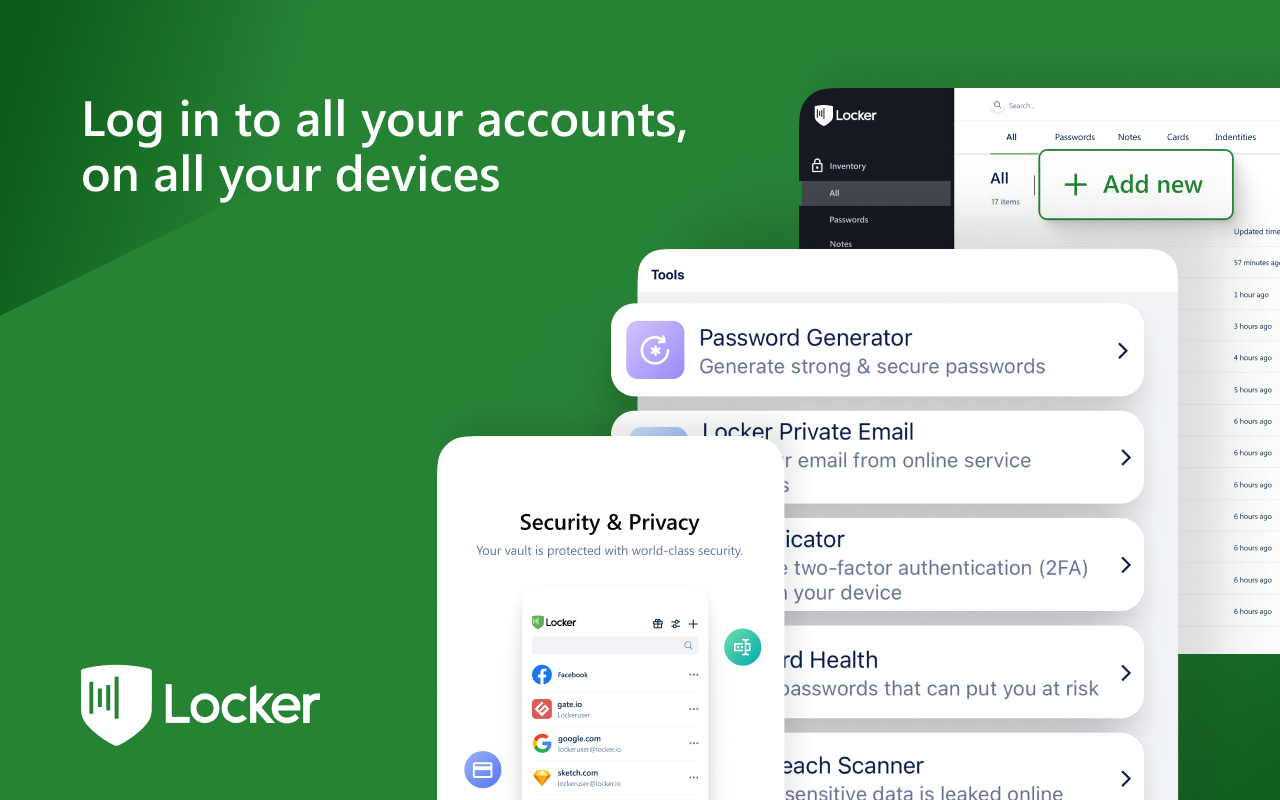 Through this summit, CyStack had the opportunity to meet leading experts in the industry, continuing to develop the field of passwordless authentication in particular and cybersecurity in general. FIDO APAC Summit is the beginning of the next steps in shaping a promising digital future for the Asia-Pacific region.
Some pictures at the summit